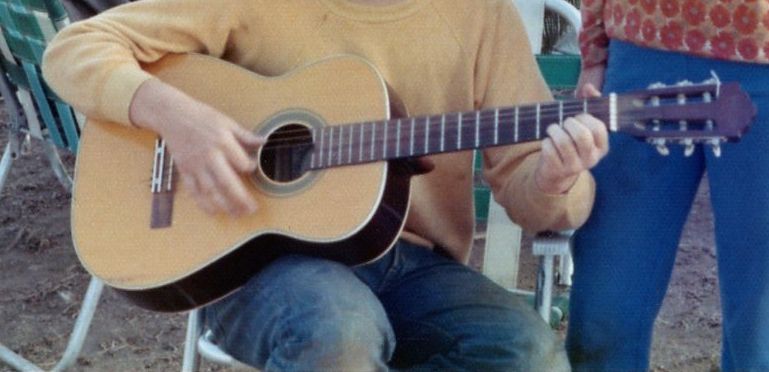 My first guitar was a no-name nylon string, just right for a 7-year old.  It was actually my mom who got me started by suggesting we take a folk guitar class from the parks and rec department.  I was going into 3rd grade.  We used borrowed guitars; when it looked like I was never going to put mine down, my dad got me this one.   By the time this photo was taken I probably had my first steel-string acoustic, and the above had been relegated to "beater" status.  It hung around neglected until I was in my twenties and a friend of a friend needed something to learn on.  I don't remember if I got a nominal payment or just never asked for it back - both are possible.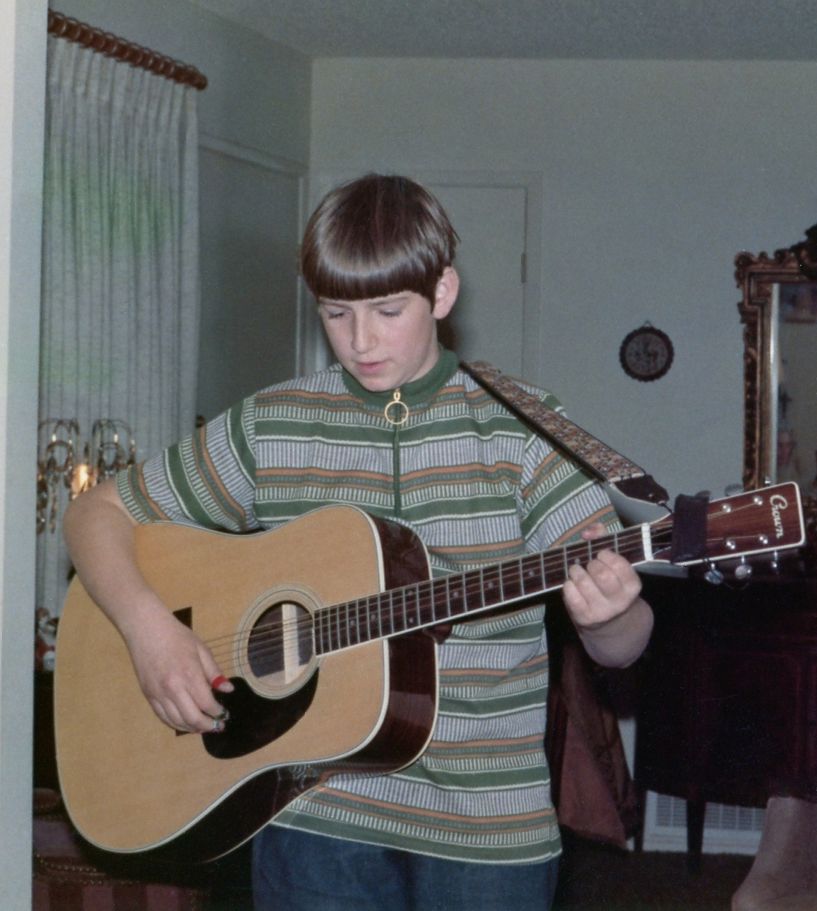 Ah, here we have it - my first acoustic guitar, and not a bad one: a Japanese knock-off of a Martin dreadnaught called Crown, which I got for Christmas in the 7th grade.   My dad had talked Steve Lester into giving me some guitar lessons prior to this.  My accomplishment up to that point had been playing barre chords, and he rocked my world by teaching me open tunings and finger-picking.  As you can see here, I'm experimenting with metal finger picks - never could keep them on, as they cut the circulation; besides which, you couldn't do the kind of right-hand frailing rhythms I was picking up from Beatle records.  The solution was good right hand nail care.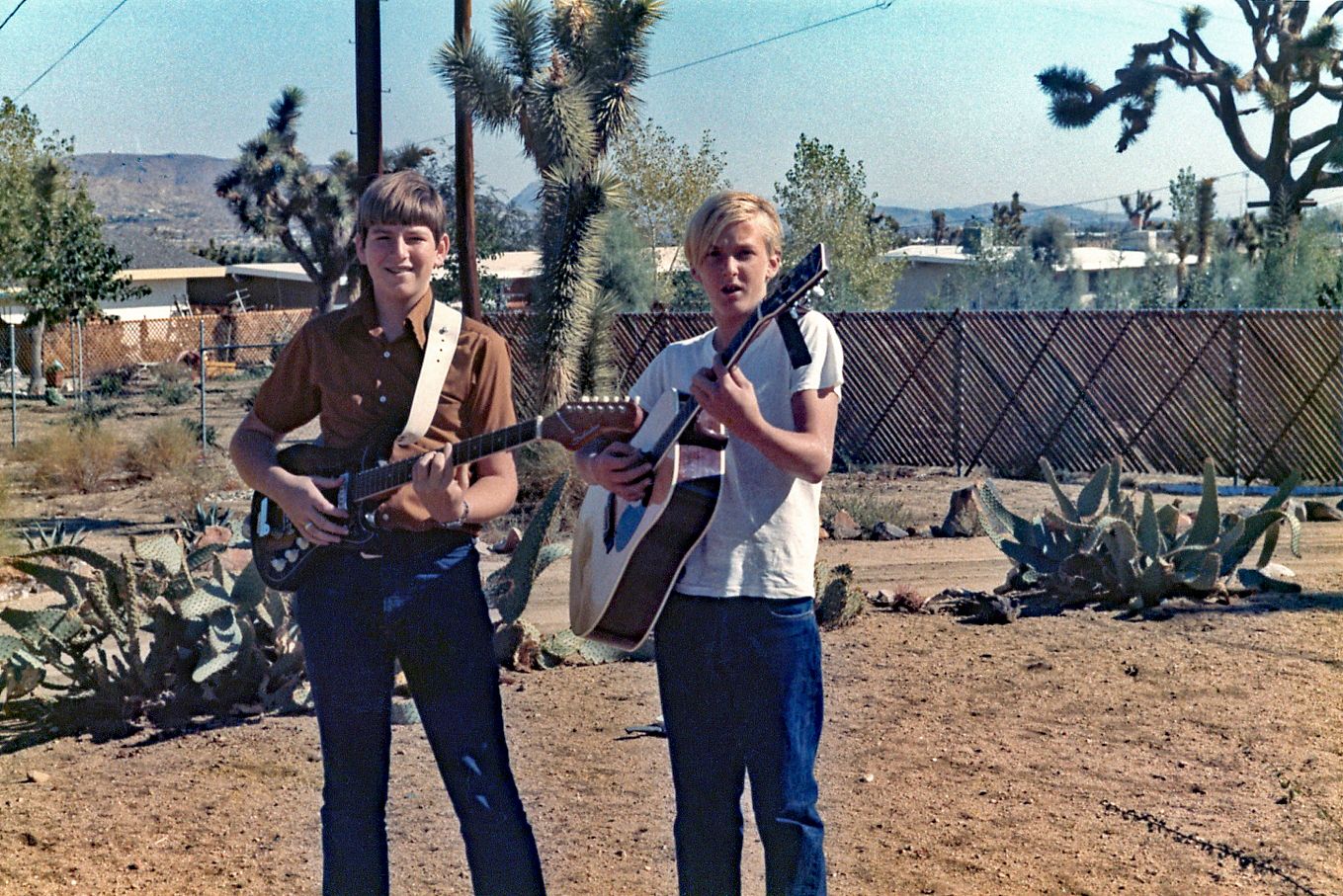 Dwayne McCobb and I circa 1971, displaying our mastery of the barre chord.  I think we started a band that weekend.  We were in junior high - unfortunately, different junior highs about 100 miles apart.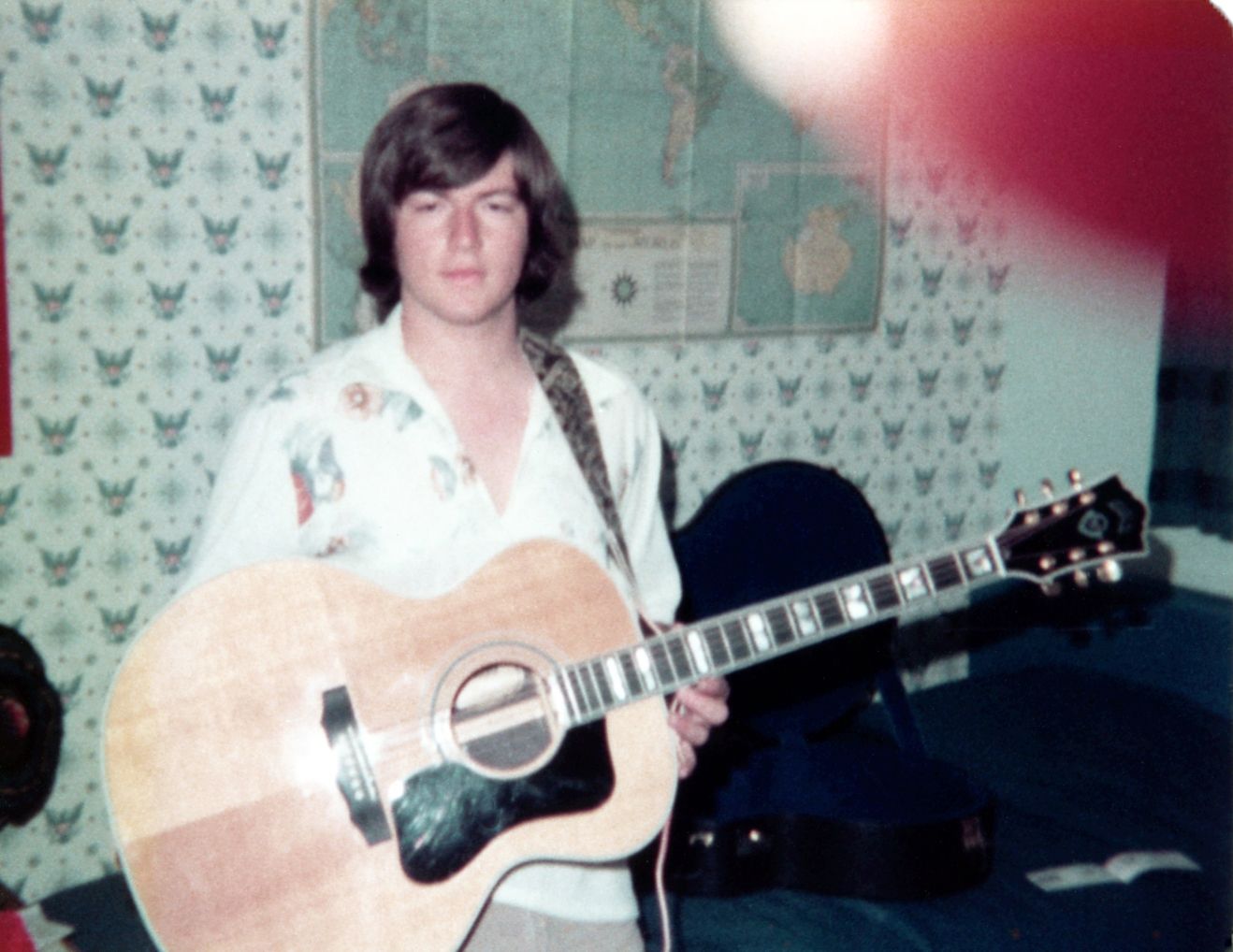 June 22, 1977 was the day I brought home the Guild F-50R, my first serious guitar.  But I should back up: by this time I had amassed a small collection of not-so-elite instruments.  My second guitar was not actually the Crown, but a Sears catalogue Silvertone electric I bought in the 5th grade.  In 8th grade I picked up a Yamaha FG-180 acoustic.  It worked well as a second guitar to have in a tuning or use for bottleneck slide playing.  Then there was the used Mosrite electric I got sometime in high school.  I don't have pics of these latter two guitars, but you're not missing much.  They, along with the Crown and the Silvertone, all got traded away around my first year in college for a Guild classical guitar.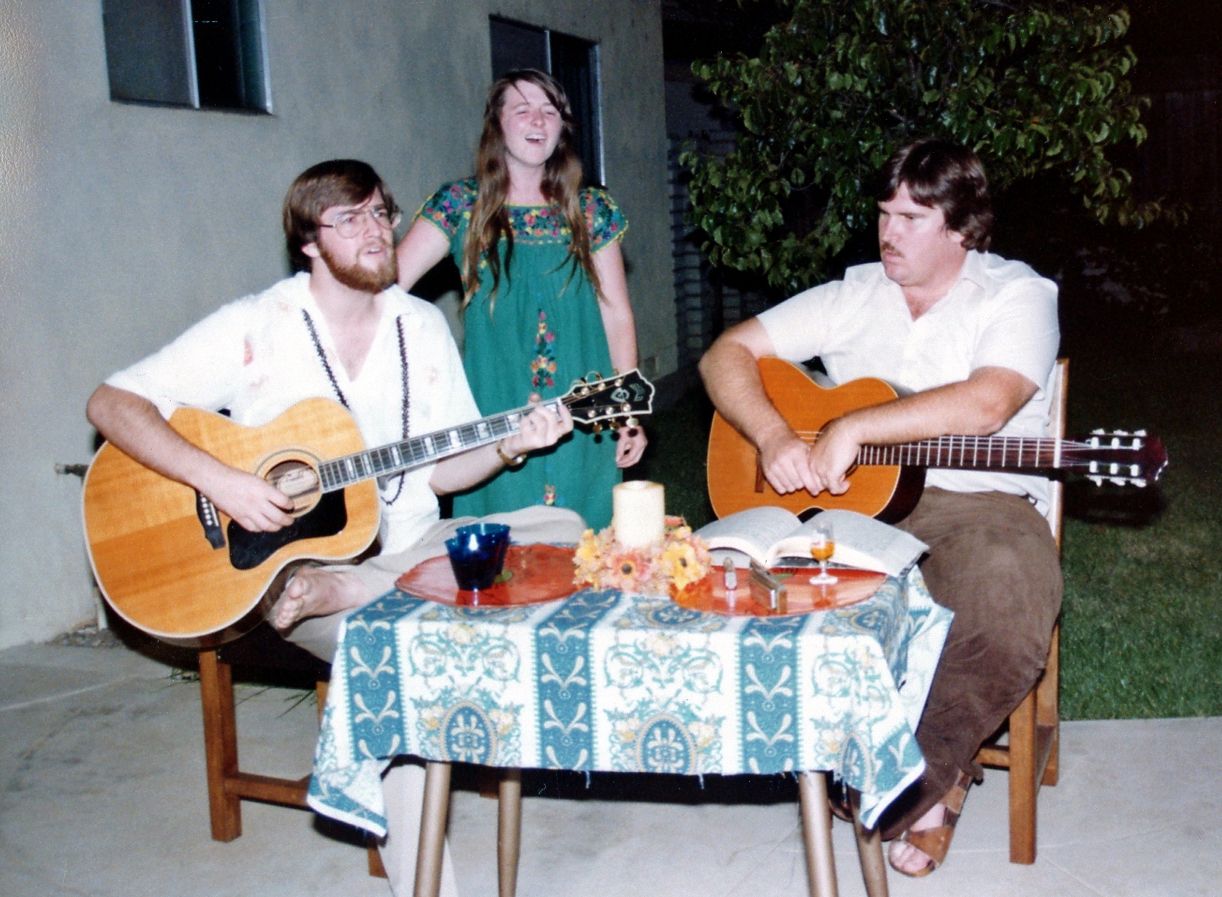 Julie, Doug Lawrence, and I crooning away - Doug is using my nylon-string Guild. 
I used the jumbo Guild F-50R shown above during my years working with Carol Wallace as an acoustic duo, and in the Mystery Play trio with Carol and Tom Petersen.  Carol and I met in high school.  She was already advanced as a songwriter.  Through our working together my knowledge of open tunings was expanded, and she introduced me to the music of Joni Mitchell.  Tom's playing and songwriting would become a big influence, from the structuring of songs and lyrics to his more jazz-oriented guitar style with its broader harmonic palette and right-hand rhythm reminiscent of country blues, Dan Hicks and His Hot Licks, and the Hot Club of France. 

The Guild classical was a sweet little instrument too, and for a while I just had the two Guilds. Then a band asked me to join and I needed an electric guitar.  Enter the Peavey T-60.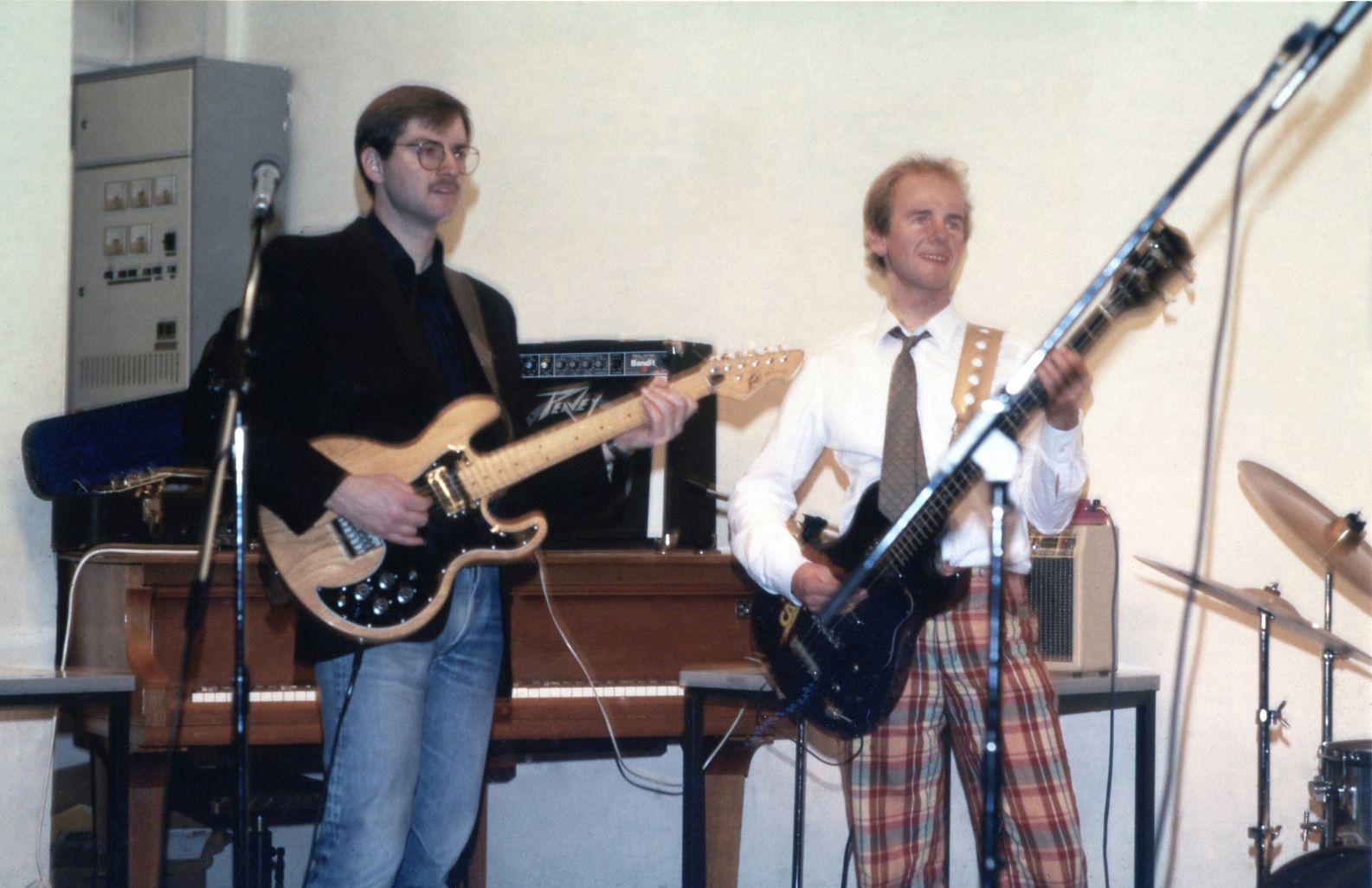 This was not that band.  The T-60 served its purpose, but was just passable.  I would later replace it with the Strat that would be with me for the long haul.  The outfit Candy (Carol) and I joined was known as Glory Beat, fronted by Lowell Carriere.  (The name later changed to U-Turn.)  Lowell's music at this time was kind of new wave/rockabilly in orientation - with glam elements and other influences, not to mention his unfailing instinct for melody.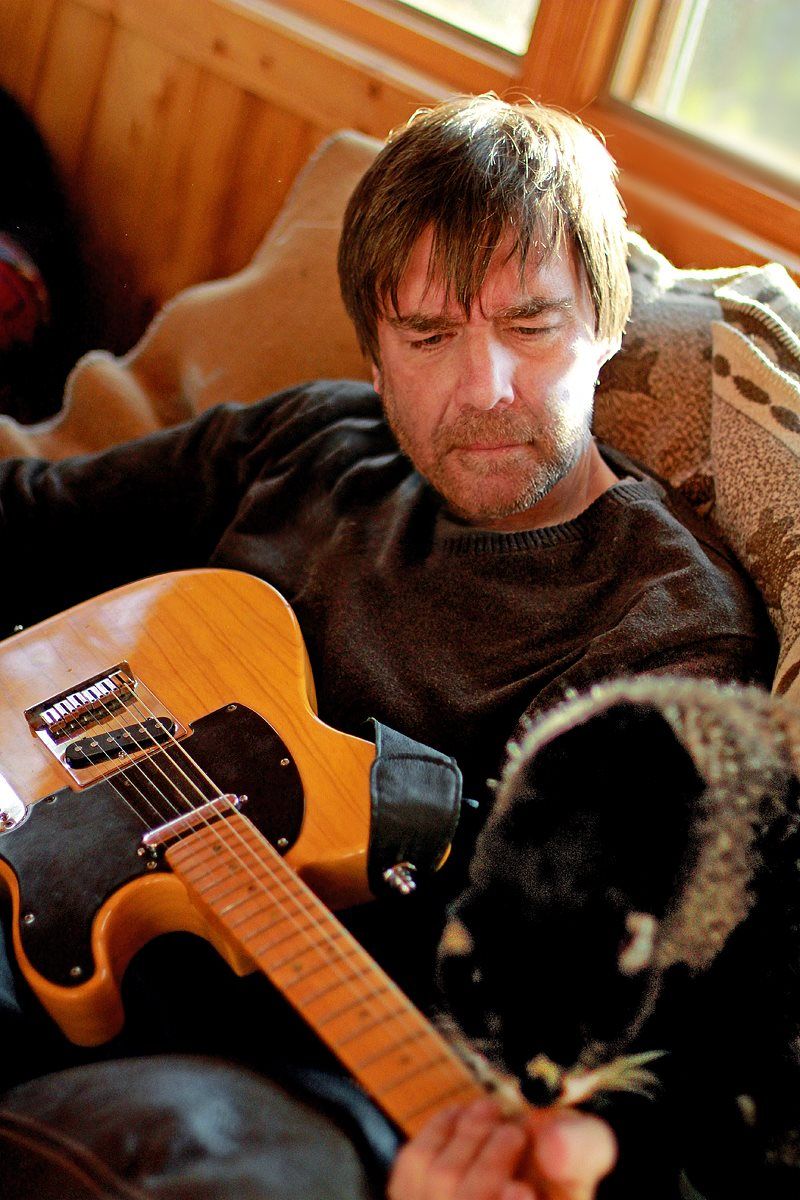 I don't have any pics of us playing, but there's a cool little live tape somewhere.  At the time Lowell wasn't using this Tele, but rather a 60's Stratocaster - whose dark blue finish turned out to be quite rare.  All in all a very broadening period for me. 
But the next guitar would be the big leap forward, as far as instruments that suit me are concerned.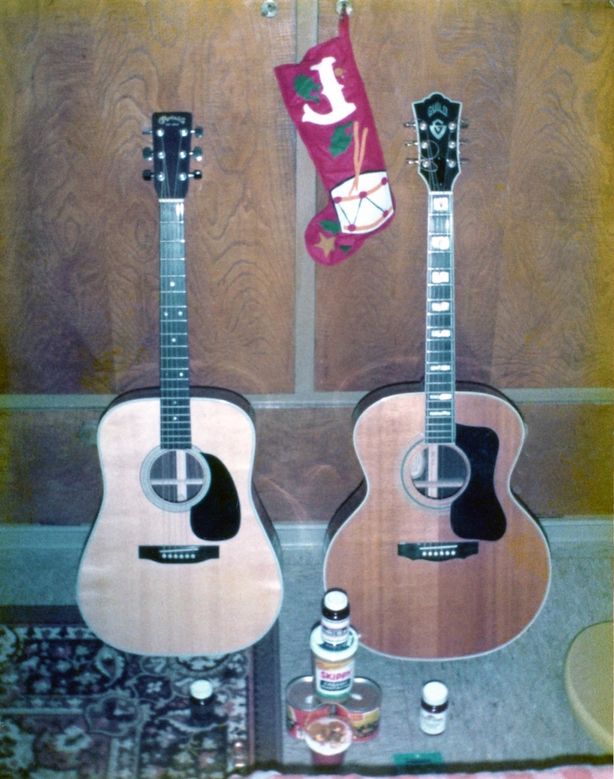 Christmas Day, 1983.  I had given myself a nice present at the end of November: the guitar on the left was in the window of Musik Alexander, Bahnhofstraße 9, Mainz.  The Mark was weak against the Dollar and the time was right.  The Martin D-28 would end up as my main guitar, but it was second fiddle to the Guild for a few years until I got it set up right.  Its projection, strong bass and clear highs made it a better fit; individual strings and notes were more intelligible.  I wanted to start recording when I moved back from Germany, and so the next goal axe-wise was to solve the electric guitar problem.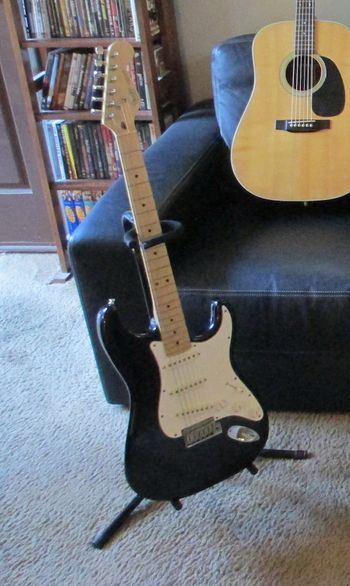 This was the solution.  The American Standard Stratocaster wasn't that expensive in the mid-80's, but it was miles beyond the Peavey as an instrument.  I used it on my first solo project and have been using it ever since.  I'm not a real artist on electric guitar like Dwayne, Jim Earp, or Marc Burroughs, who can really express themselves musically; but once I know what a guitar solo or a rhythm part needs to be on a tune, this guitar gives it to me.  The next instrument to be added (to a once again growing collection) was completely unplanned.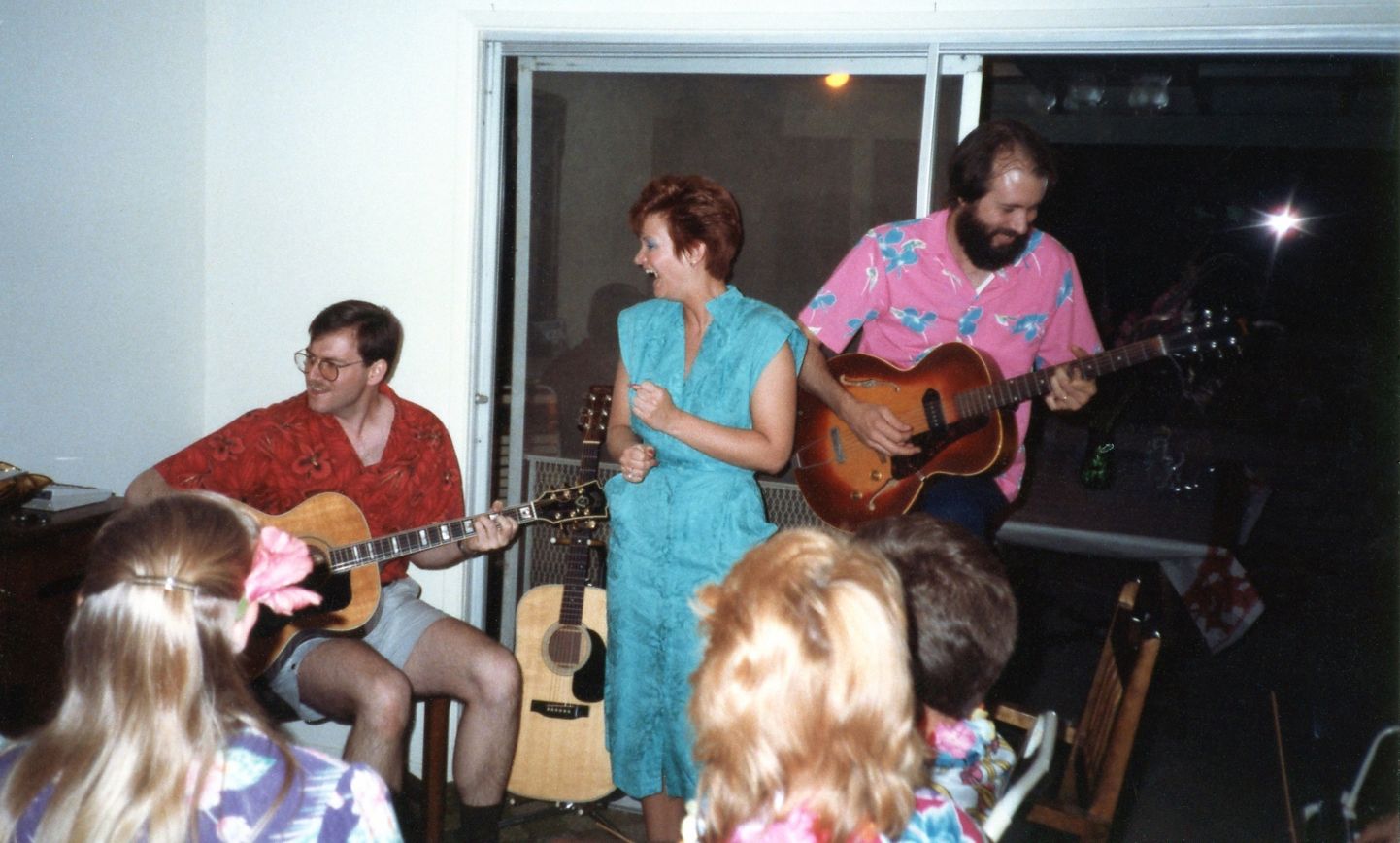 The Gibson ES-125 being played here by Tom Petersen was his, but was more or less on permanent loan to me after I took to it.  It was easy and fun to play and had a cool, chunky sound.  I never plugged it in due to a pick-up buzz problem, but rather used the guitar as a carved top acoustic, often doubling electric or acoustic guitar parts to add texture.  Tom eventually sold it to me cheap.  It didn't have a case and for a long time it was on a stand, the easiest guitar to grab.  The problem with that was that I relied on it too much and got used to the light touch - I wouldn't always be in condition to play the Martin or Guild acoustic for gigs.  I had it from sometime in '87 to June of '92, when it got traded - along with other guitars and cash - for the '53 Martin 000-18.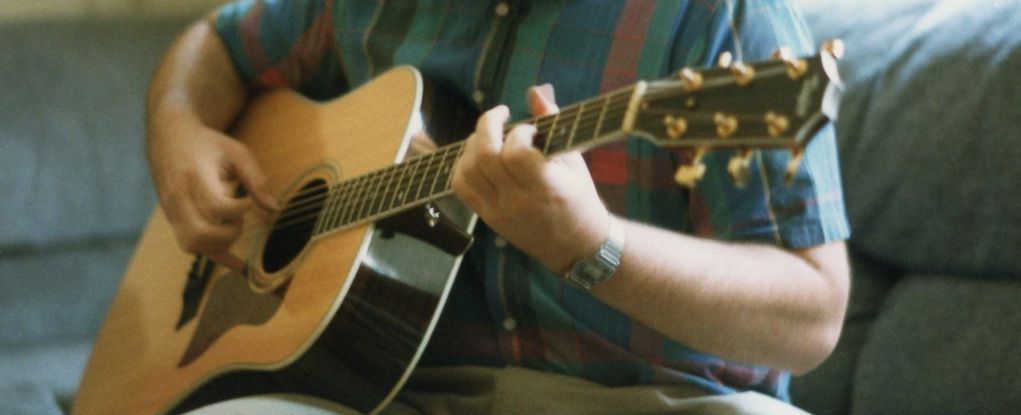 Around 1988 I got an itch to sell the Guild F-50 and replace it with a Taylor.  I'd been hearing a lot about Taylors and found the one pictured above at American Dream Music in San Diego, where I'd bought the F-50 11 years before.  This store had a connection to Bob Taylor, the co-founder and original luthier/designer of Taylor Guitars.  It took a while to find a buyer for the F-50,  but eventually it worked out; and I used this Taylor 8-10 as a second guitar until 1991.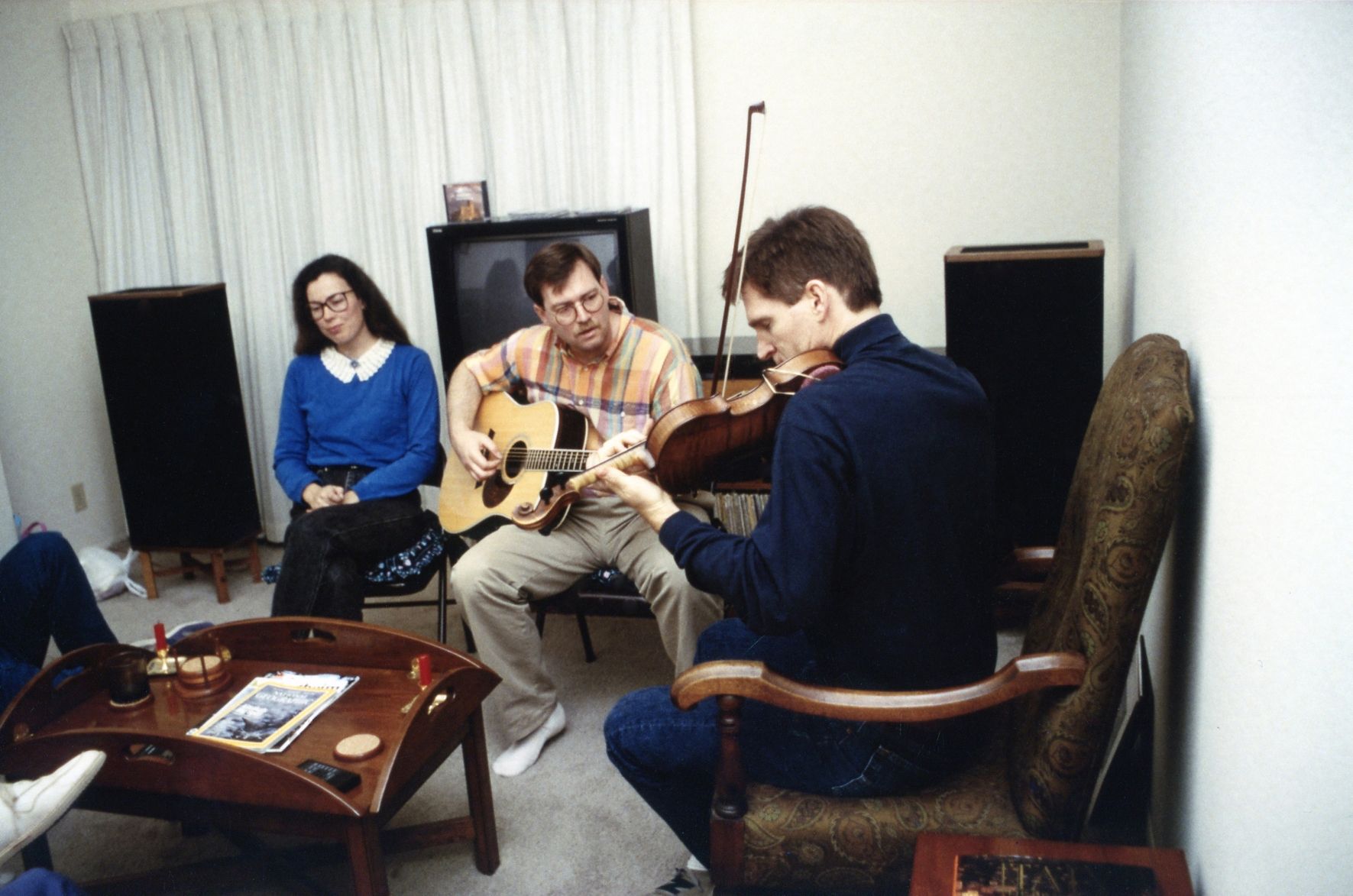 A little home music-making with Janet Curci and Greg Lawrence - and you'll notice I changed the pickguard.  Some serious intonation problems had to be corrected on this 8-10 by filling and re-cutting the saddle slot in the bridge - work which Taylor neither acknowledged as necessary nor warranted, even though the guitar was still under warranty.  I had Moze Guitars in San Diego do the work at my own expense.  But it was a fine instrument otherwise, with a very open and three dimensional sounding mid-range.  The high end was a bit thin, and the bass lacking in punch compared to the D-28.  So when I needed cash for studio upgrades and recording gear, I sold it and replaced it with an inexpensive Martin Shenandoah 000-28, which had been built from a kit by someone in Del Mar - hence it was dubbed (by Bob Page of Traditional Music in Leucadia) the "Del-Martin."  Unfortunately there are no pictures of this little number, and I didn't have it for long.  It would soon make way for the next major instrument in my guitar journey.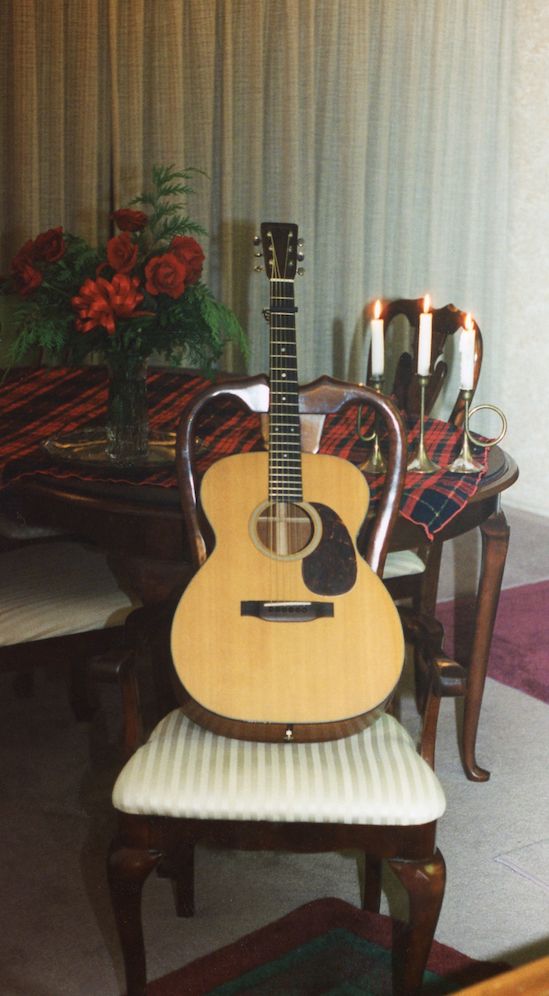 Traditional Music had become something of a hangout.  Marc Burroughs introduced me to Bob Page, the owner.  He had made the store very congenial for musicians, with a terrific atmosphere.  They also had a policy of allowing you to trade up - if you had purchased a guitar from them, you could trade it back in for the same value toward something better.  I happened on this 1953 Martin 000-18 one day, which had been restored.  A few days later (6/30/92), I packed up the "Del Martin" Shenandoah 000-28, the Gibson ES-125, and the Guild classical (wish I had a record of what model it was), and traded them in with some cash for this vintage beauty.  So now I'm back to three guitars: the two Martins and the Strat.

This 000-18 was - shall we say - instrumental? in the course my playing would take.  Marc Burroughs and Steve Bagwell, then a guitar tech in Taylor's repair department with a luthiery business of his own (now Hidden Valley Guitar Works in Nevada City, CA) - these two got me into the music of Bruce Cockburn and Pierre Bensusan around '90 or '91.  I had worked with open tunings quite a bit, but learning to play Bensusan music unlocked DADGAD and opened the guitar up for me in a new way.  The smaller Martin was extremely versatile, easy to play, and had a wonderfully mature mahogany sound.  It also had a DiMarzio contact pickup installed, which wouldn't have been my choice, but happened to sound good.  A lot of DADGAD songs came around this time, including "On 78 East," "Walk This Burden Down," and "Don't Bite the Apple,"  although I'd already written other songs on it, such as "Somehow" and "Mystery of Faith."

Another point of interest about this instrument is that Paul Johnson borrowed it to record his multi-guitar masterpiece, Christmas with the Hepcats.  It's still the best guitar album of Christmas music I have heard.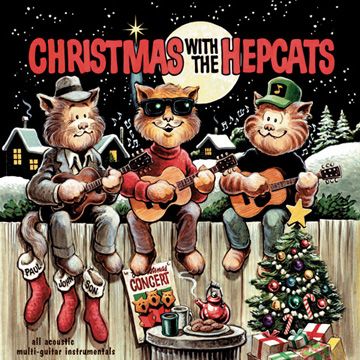 This record is still available from Paul's website, www.pjmoto.com.  Every note is that little 000-18, and I am proud of the association.  Anyway, the guitar was useful in a variety of ways, and for gigs it handled the DADGAD and other alternate-tuning material.  I had it until late '95, when I decided I needed a a cutaway - but that would be the next chapter.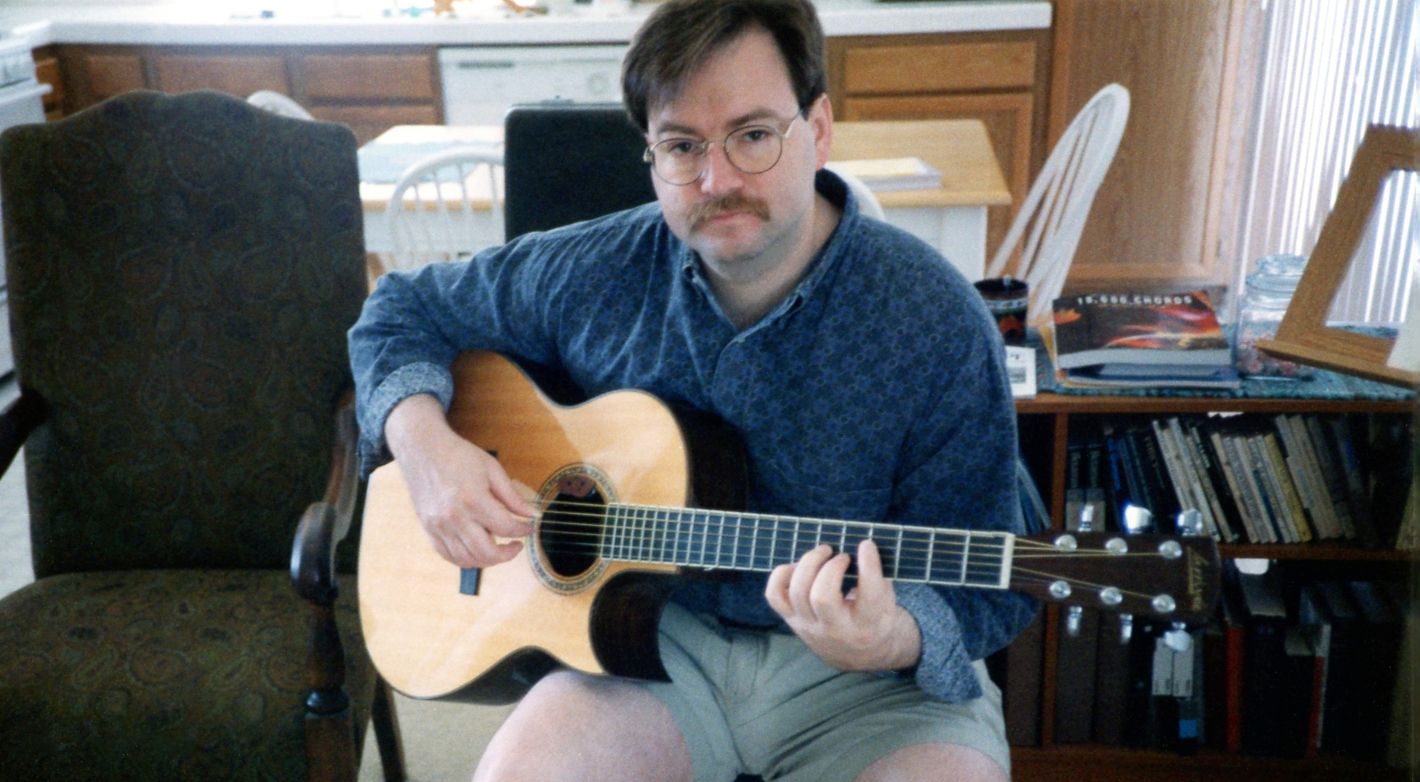 Some of Pierre Bensusan's music was challenging to learn.  I got a bit hooked on the sound and possibilities of the DADGAD tuning.  In Pierre's hands it's anything but a drone-laden cliché; he uses it with amazing freedom for every conceivable style.  But then he's unique - and blessed with large hands as well as musical genius from beyond.  The shorter scale length of the 000-18 was helpful with the left hand stretches DADGAD can throw at you.  When I got to some of his more demanding material, I found access to the upper frets was needed; a guitar with a cutaway would be required.

I'd been interested in Lowden guitars since the January '91 NAMM show in Anaheim, which I attended with Marc Burroughs and Guy Hufferd.  Part of the Bensusan sound was his jumbo sized Lowden S-22 (nowadays corresponding to the O-series), but I'd encountered a lot of interesting music by players of Lowdens: Richard Thompson, Alex de Grassi, Michael Hedges, and Acoustic Alchemy, among others.  We visited the Lowden booth at NAMM, and I was impressed.  I ran across a used Lowden O-25C ("C" for cutaway) at Traditional Music a few years later.  But even used, it was out of my price range.
So I looked into selling the 000-18, verified from Martin records that it was authentically from 1953, and started advertising.  It didn't take too long.  I sold it for a few hundred bucks more than it cost me, but nothing like what you could get now for an early 50's Martin in good condition.  It's the only guitar I regret letting go of, though its replacements were (are) both great instruments.  The Larrivee C-09 pictured above was the first.  I heard Marc Burroughs' brother Greg playing it at Traditional Music, and as soon as he put it down I swooped.  The sound was just so terrific.  It became the DADGAD guitar for gigs; the tone was very focussed, and it amplified beautifully.  This guitar was a favorite of Janet's.
The cutaway allowed me to continue with Bensusan's "Around the Day in 80 Worlds," a particular quarry I was pursuing.  Finally I could play the whole thing, and I really bore down.  But I started waking up with pain in my left wrist.  It took me a while to connect my dogged practice with the wrist problem - I could now barely bend the wrist or move the thumb.  It hadn't occurred to me that I'd started this music on the 000-18 with a 24.9" (shorter than standard) scale length, and chosen to continue it on a guitar with  l o n g e r  than standard scale length - the Larrivee being 26" from nut to saddle.  That might not seem like a great difference, but if the neck is longer, the frets are farther apart and the stretches even wider.  The doctor told young Einstein here that I had acute tendonitis and would have to either quit this music or get a different guitar - not to mention lay off altogether for 1-2 months.  Damn!

But in fact I was only off a few weeks.  I got put in touch with a therapist specializing in musician injuries and was able to start back, little by little, using the warm-up and ice-down techniques she gave me.  The pic above was taken the day I took the Larrivee back.  I was sorry to see it go.  But when I arrived at TM I found the Lowden was still there - apparently, now it was its time.  I'd been in to play it often, and the music I'd worked to bring life to on the Martin and Larrivee seemed to spring forth at a touch on this thing.  It's very responsive.  It took me a while to pay it off, but this would be the last of my trade-ups.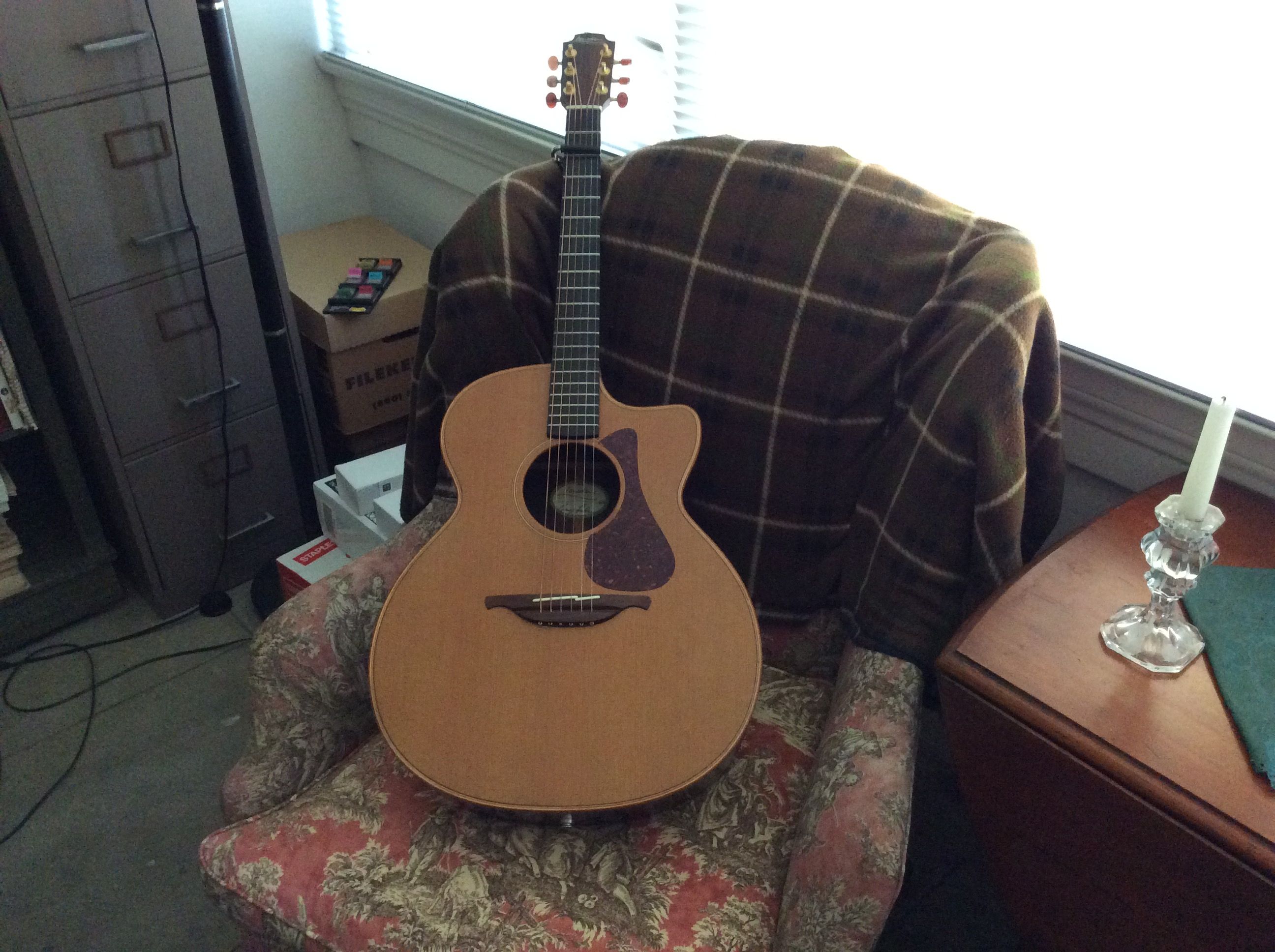 So now it's just the D-28, the Lowden, and the Strat.  It stayed that way through the end of the '90s and the 2000s, and these are the guitars heard most on my CDs.  (Anthems features the 000-18 rather than the Lowden, even though I put the latter on the CD label.  It's a photogenic guitar.)  In 2009 and 2013 I added two new members of the family.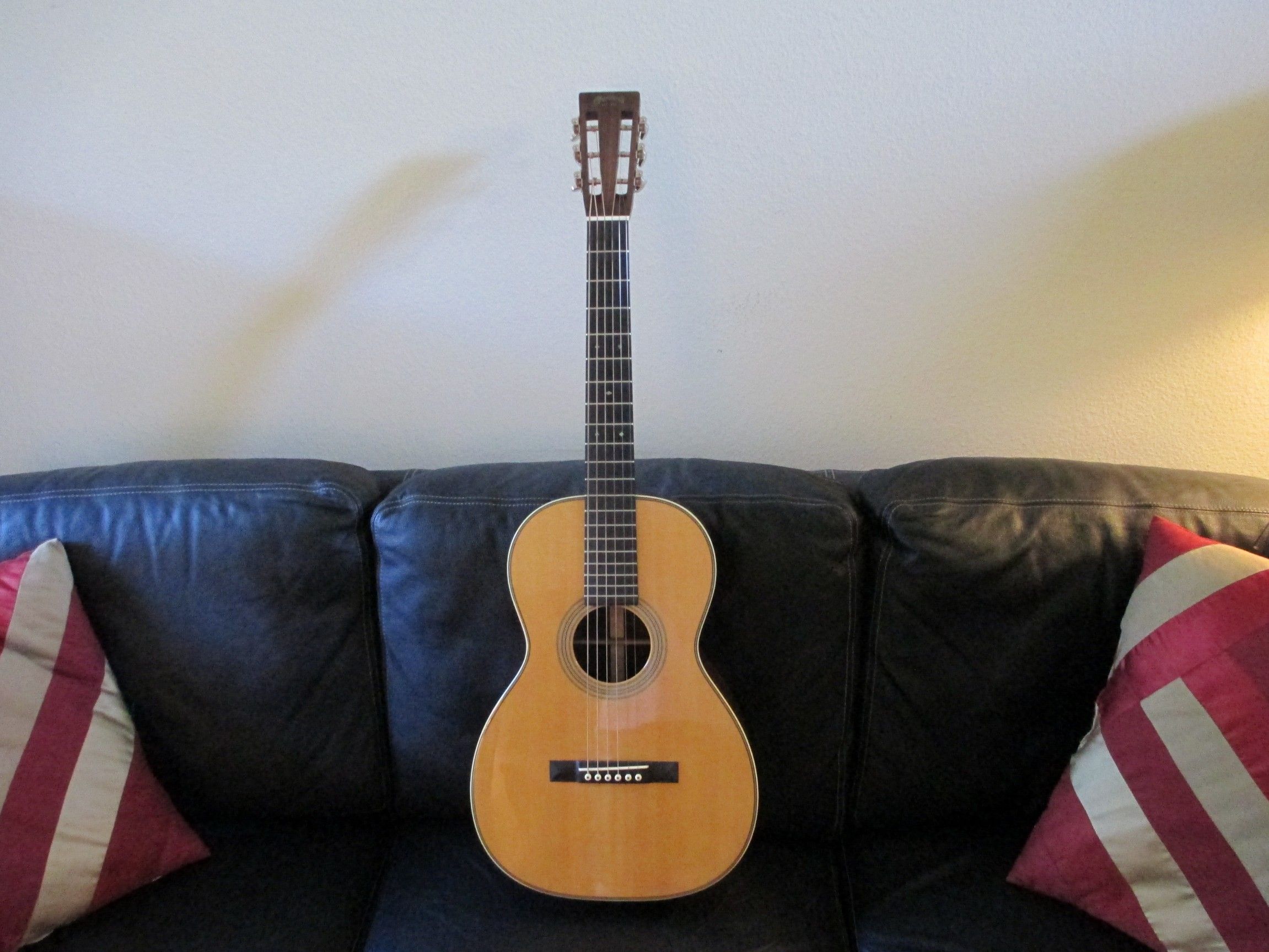 This Martin 0-28 VS is heard on "Lucky Signs Off" at the end of the Box of Lightning CD.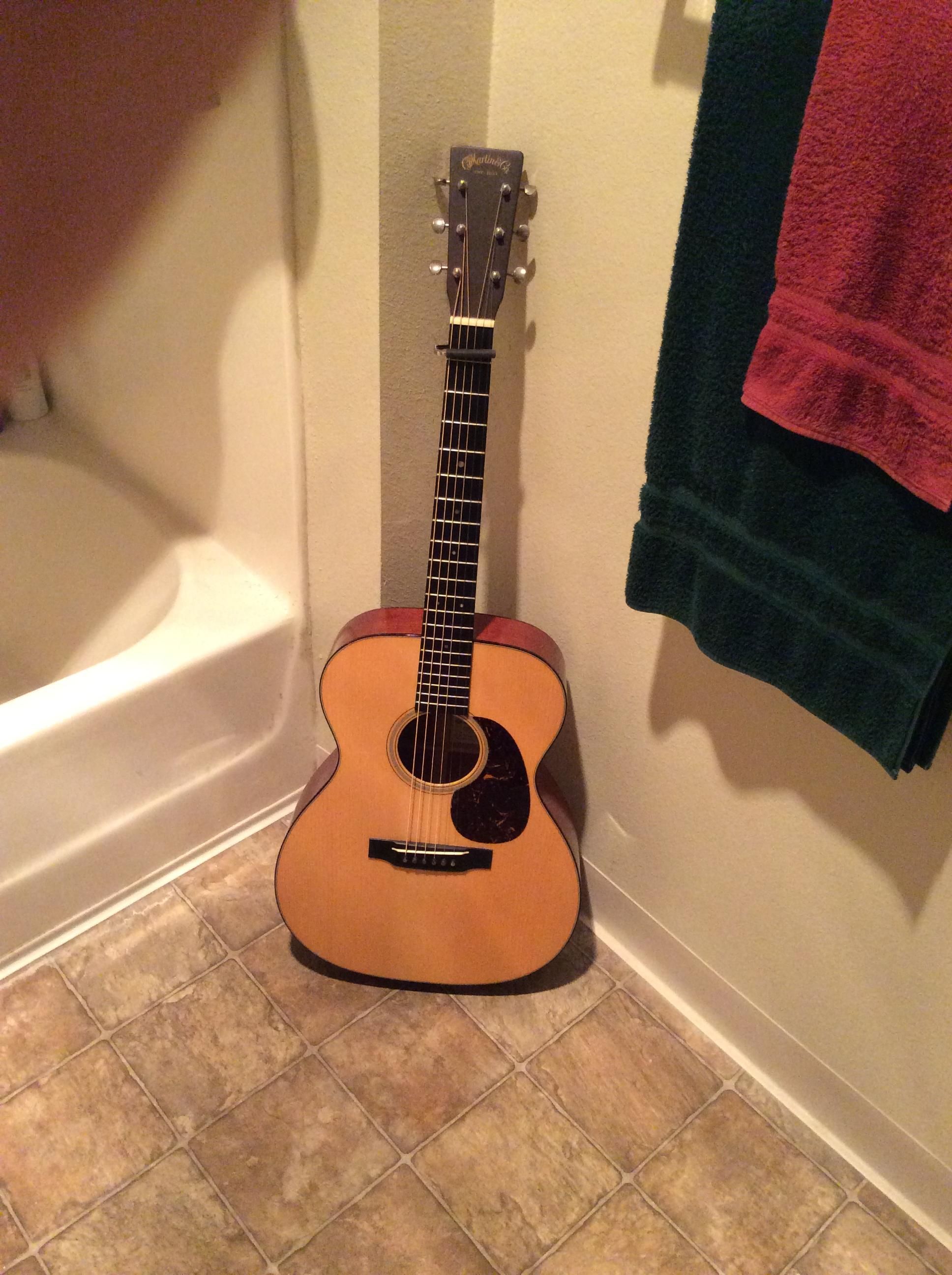 Bathroom acoustics - can't beat 'em.  I didn't actually record in here, but I did use this Martin 000-18GE on the Lightning disc as well, this time for the tune "Divided America."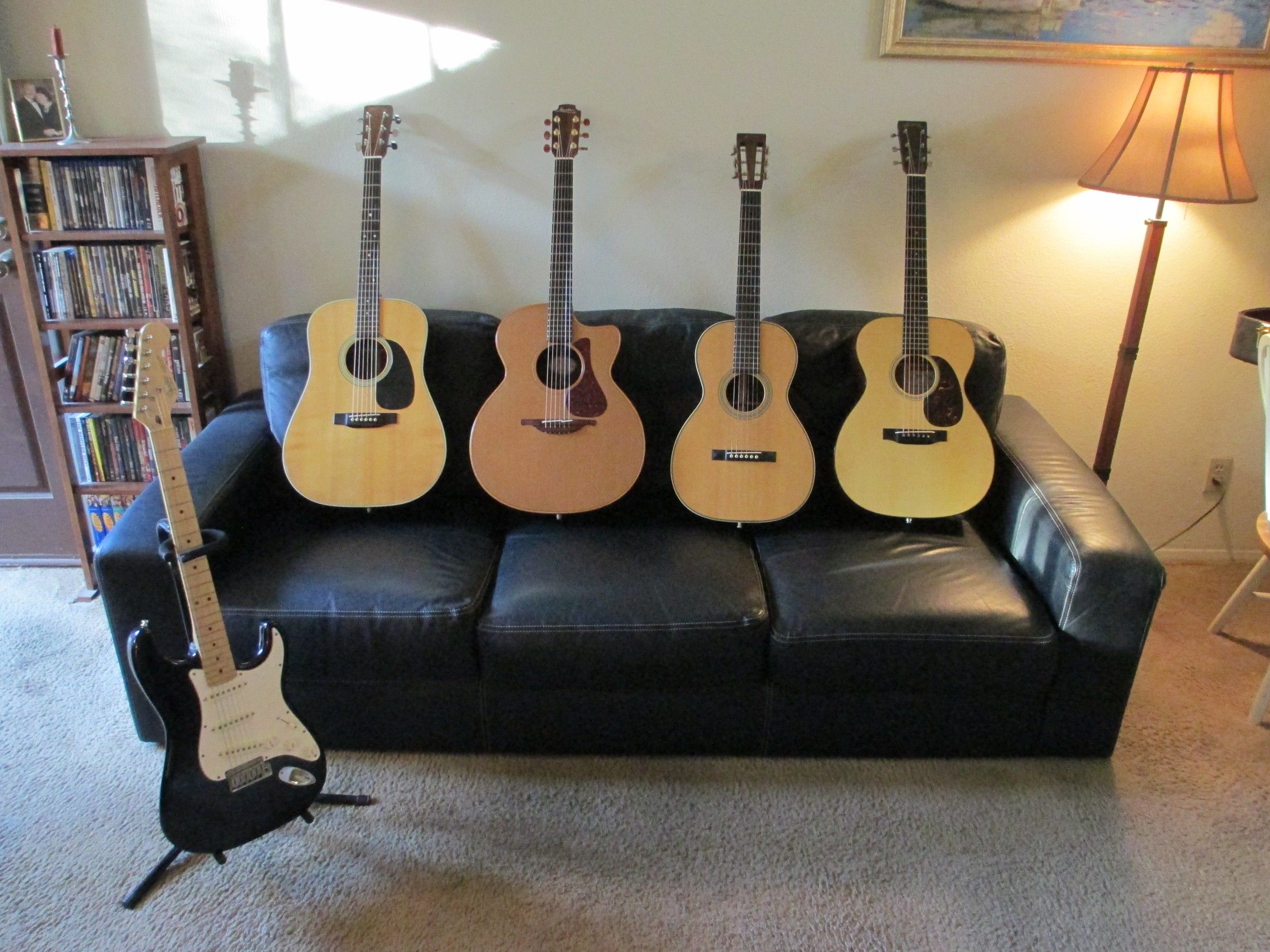 So here's the group shot we've all been waiting for.  Thanks for coming along on this little ride.  My next guitar recordings are going to be better - stay tuned.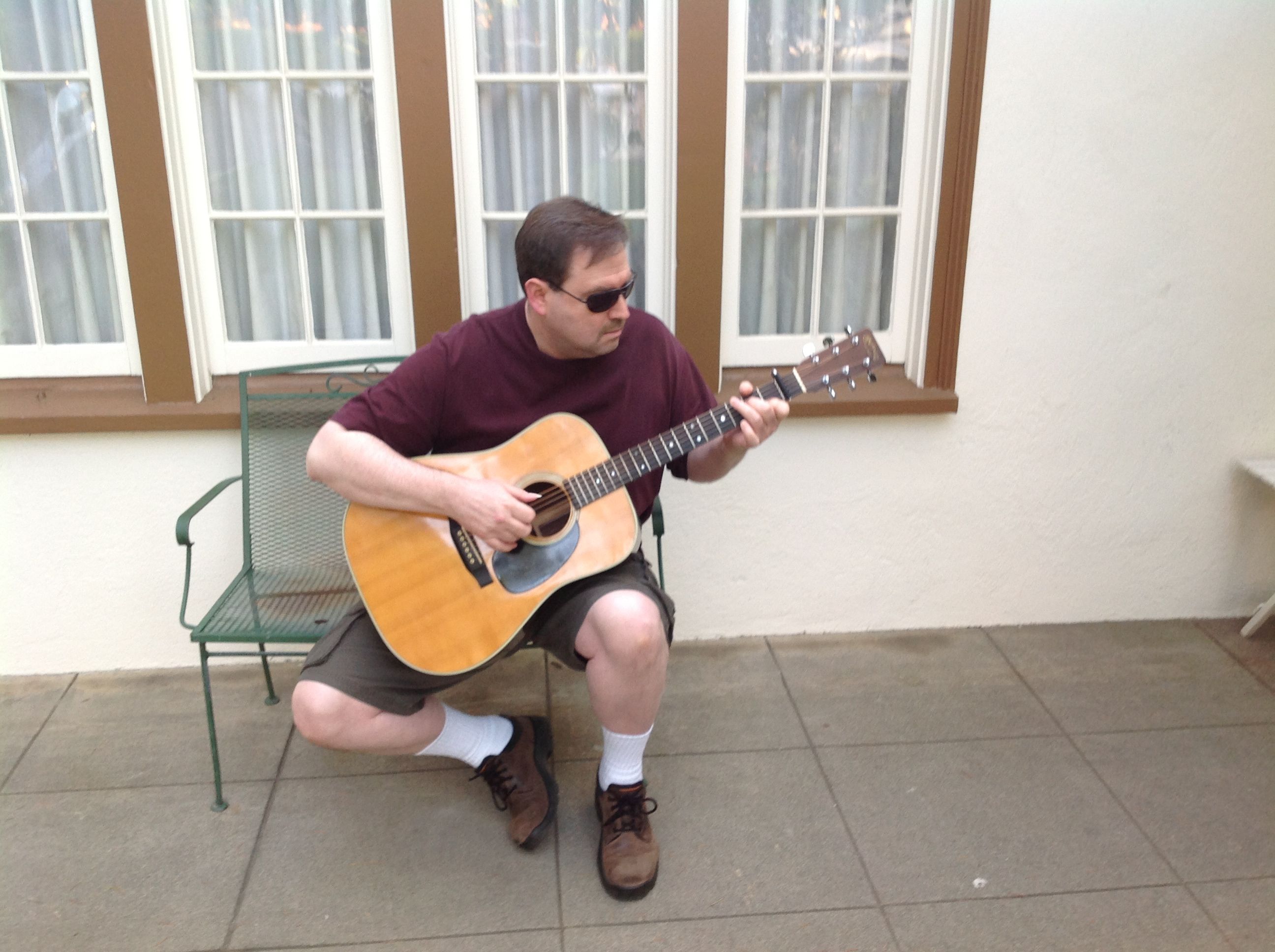 ***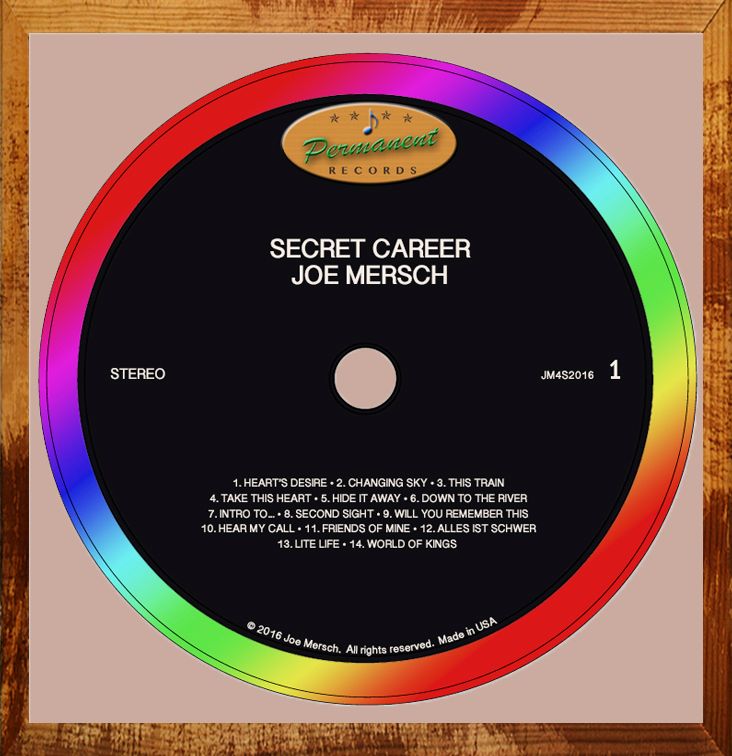 "Secret Career 87-93" released 8/1/17.
Videos:  Walk This Burden Down, Mama Just Wants to Barrelhouse All Night Long, The Way We Love, On 78 East
Songs:  The Way We Love, One Two Three, This Train
Images:  to the People/Places Gallery
Lyrics/Credits:  Secret Career 87-93
Please - no more email sign-ups!
Welcome to my little audio den.  We're just getting started.  I will be adding more images, lyrics, info, tablature, and songs (including unreleased tracks) in the coming weeks; so please check back often.  I'll feature a free download now and then as well.
TIP: Browse with Uninterrupted Audio